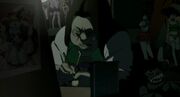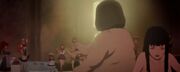 The otaku is a character first introduced in episode 2 on the news when he is talking about Shonen Bat. He is later seen as one of Maria's clients in episode 3.
He has several dolls including Vilda (the only referred to by name) and the bunny, cat and witch.
In episode 12 his home is visited by Maniwa. His dolls refer to HIM as a doll.
Sculptures
Edit
The dolls show Maniwa that the figurines which the otaku is sculpting are the victims of Shonen Bat.
Ad blocker interference detected!
Wikia is a free-to-use site that makes money from advertising. We have a modified experience for viewers using ad blockers

Wikia is not accessible if you've made further modifications. Remove the custom ad blocker rule(s) and the page will load as expected.