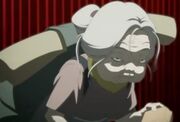 The old woman is a lady that Tsuki encounters on her way home from work in episode 1. She goes missing for a while but is encountered again in episode 5.
In episode 6 the old woman's granddaughter is mentioned and the scene cuts to her. She explains that her granddaughter's father's business went under and the family was destroyed.
She apparently missed cigarettes a lot while homeless.
Ad blocker interference detected!
Wikia is a free-to-use site that makes money from advertising. We have a modified experience for viewers using ad blockers

Wikia is not accessible if you've made further modifications. Remove the custom ad blocker rule(s) and the page will load as expected.